Post by General Disaster on Nov 1, 2010 13:38:36 GMT -5
Terra Novus
[/size]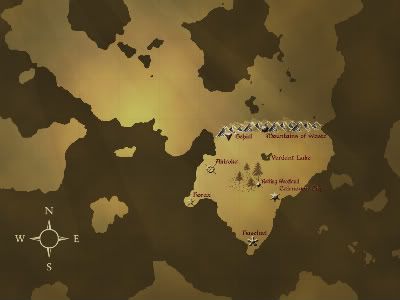 This is the known world of Terra Novus. Since the Morning, people have explored and rebuilt what they can of the world, and since the discovery of the Archives the traditional seat of man has been known as the Midlands. Of course, all of this pales in comparison to the great panoply of known history.
Although nobody knows quite when it ocurred, The Fall is common knowledge amongst the people of the Midlands. An unknown time ago, the light of civilization turned into an inferno of war; great, terrible weapons were unleashed upon the world. Nuclear fire bathed the entire planet and biological weapons scrubbed the surface of Terra. The world fell silent. Eventually, after the nuclear winter, the survivors left their holes and began to explore. Cairnavon City, with most of the population safely hidden away in the underground chambers that run underneath the city, remained mostly unchanged; people rebuilt and the old ways of life reined. Constructed around a military research station, Horax became the technological capital of the known world, and those interlopers who wandered beyond the cities found themselves stopped only by the sea and great piles of refuse, the Mountains of Waste.
Some died happily, of old age, peacefully. Most died at the hands of the monstrous creatures that had overran the planet. Others, still, met the feral humans outside of the cities, killed at the hands of tribals. It is now the fifty-third year AM, or 'After Morning'. Five years ago, a discovery was made that shook many; as no-one had ever conquered the Mountains of Waste and returned, it had for long been assumed that they were the limit of where Man could survive in the radiation-blasted wastelands. However, just south of those mountains was found a small research center, from before the Fall. Horaxian scientists recovered many miracles from that place, most of which are still locked away there, guarded by the Rangers.
However, one thing came to light as having been released. A map, found in what was called only 'The Archive', showing the world, and the Midlands within that world-and everything became bigger. It took three years for the whole map to be released, but since then every adventurer, captain, mercenary or explorer has desired to explore the world, to seek out other places and perhaps other cities, places untarnished by pollution and radiation.
For the common man, however, little has changed. Life is short, dangerous, and miserable, and stepping outside of the cities is still suicide. Nothing has changed.
Nothing ever changes.[/center]