Post by effrontery on Oct 30, 2010 23:00:51 GMT -5
Image obtained at grievous cost
: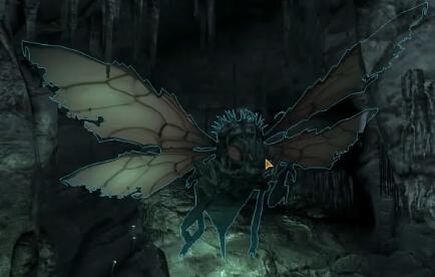 Hymnopetra Somnifera
Basic Details
Common Name
: Rose Wasps
Average Height
: Three inches
Average Weight
: five grams
Usual Pelt Colour
: The pelt color varies with the tree it's symbiotic with but you can almost guarantee that by the time it's close enough for you to tell what color it is, you won't care.
General Appearance
:
A Rose Wasp's thorax is in the shape of an oval, tilted so that the points of the oval aim towards the sky and its two flaky wings rest on this point. Each wing is generally the size of the entire wasp and when they beat they create a deep humming noise, the first sign that you should run. Its abdomen is curved so as to end in a gleaming black stinger. It, peculiarly, has only three legs, two on each side of the thorax and one at the front. This would make it ineligible for insect status if there were enough scientists left to care.
Ecological Details
Habits
: Rose Wasps are violent. That's really all you need to know, but if you actually care about what Rose Wasps do in their spare time then here it is: They don't. Every second of their (relatively short) lives is spent roving about their territory looking for things to eat, other Rose Wasps to invade or they're escorting another dazed victim to the tree. The Knights spend their time protecting the queen or mating with her, I've already explained what the drones do and, I think you can guess what the queen does all day. The Drones inject their victims with a neurotoxin that slowly shuts down their organs, leaving them alive during the process so they don't begin to decompose until they reach the tree.
Once at the tree the victim's escorts die as well, having spent themselves by using their stingers and guiding him to their home. Their queen lives in the tree, as do the drones before they head out to kill, but the drones live in small cubbies that are barely scratches on the tree's bark while the queen lives deep inside the tree, hiding near the core as she churns more and more knights and drones out to service her. Once the tree's colony gets too big for the tree to reasonably keep fed the queen gives birth to another queen and gives that queen an entourage of drones and knights, the drones take with them one of the tree's fruits, and after they bore into it, they sit and wait for the tree to grow, for their colony to begin anew. Rose Wasps are relentless, their queens are well protected and their knights don't die after a single sting. Going up against a Rose Wasp colony with anything but a platoon of trained men wielding insect repellent is nothing short of suicide.
Why would you attack it like that you may be asking? Why don't you just burn the tree? Two reasons, first is that the tree's fruit is a potent narcotic, selling for thousands of Uriles on the underground. The second, slightly more altruistic reason, is that when Rose Wasps lose their tree and, more importantly, their queen, they flip the fuck out. They lose their minds and stab at anything that gets near them. They've been known to decimate entire hunting parties in their murderous frenzies, so doing anything but running isn't a good idea.
Diet
: Does it have meat? Does that meat corrode? It's food for the tree. However, the wasps don't actually eat any of the meat; they subsist on nothing but a sap secreted from the tree once it's done feeding.
Predators
: Hahahahahahahahahaha, that's a good one.
Niche
: Deep forests
Created by
: Effrontery